What is Brew Moon Fest?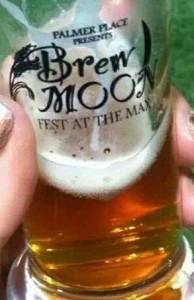 Brew Moon Fest is an annual indoor festival designed for beer enthusiasts to experience the finest craft, import and micro breweries in an indoor park-like setting. The event is presented by Palmer Place Restaurant and the McCook Athletic Expo (the MAX).
The Cubs game will be broadcast during the event!
The 5th Annual Brew Moon Beer and Band Fest, slated for Saturday, October 17, 2015 will showcase more than 150 craft and import beers for sampling. Live entertainment, food,  and home brewer pavilions will also be featured. Attendees will have the opportunity to meet industry experts and talk to master brewers.
Thanks to the support of our 2014 sponsors and attendees more than $10,000 was donated to local charities. It is with much excitement that we announce Helping Hand Center and Community Support Services as the 2015 charity benefactors. Please take a moment to visit their websites to learn more about the important work they are doing in our community.
   
   Community Partnerships
Brew Moon Beer & Band Fest is excited to partner with The Kiwanis and Rotary Clubs of La Grange this year.  This partnership creates a unique opportunity for our community and local organizations to work in partnership to expand funding for local non-profits.  To learn more about the Kiwanis and Rotary Clubs of LaGrange please click on the links below.
Kiwanis Club of La Grange           Rotary Club of La Grange
Main Sponsors