2022 Charity Beneficiaries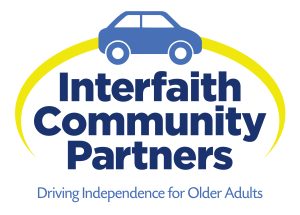 Interfaith Community Partners is a non-profit organization that works together with volunteers to provide rides to older adults in the Lyons Township, south Proviso and Riverside townships. Over 115 volunteers provide accompanied transportation to medical appointments, and life-enhancing errands such as the grocery store, hairdresser, bank, and church.
In 1999, extensive community research undertaken by Community Memorial Foundation identified the plight of isolated adults in our communities. ICP was founded with grants from the Community Memorial Foundation and the Robert Wood Johnson Foundation (Faith in Action). Seven local congregations formed Interfaith Community Partners to better meet the needs of older adults in the Greater Lyons Township. ICP began as a visitation service with teams of volunteers from the seven founding churches. It became evident that loss of mobility is one of the biggest causes of isolation. Learn more about their services.
NAMI-Metro Suburban: The Living Room Lagrange
NAMI Metro Suburban is an affiliate of the National Alliance on Mental Illness. We are grassroots family and consumer self-help support, education and advocacy organization dedicated to improving the lives of people, families and communities affected by mental illness in the western suburbs of Cook County. NAMI Metro Suburban is one of 900 affiliates nationwide.  
The Living Room is a safe place where you can talk with a peer if you are experiencing life's emotional stresses. The trained peer recovery support specialist use their experience to help you fine and maintain your recovery. Services are free of charge. Learn more about their services.
Brew Moon Charity Selection Process
Charity Applications open until August 10th, 2022
Structure of Program:
Applying charities are required to meet the selection criteria
Applications will be accepted on-line through this website until August 10th!
Of the applications that meet criteria, our selection committee will review applications and announce the charity(s) June 8, 2020.
Charity Selection Criteria:
Charity is located within Lyons Township
Large percentage of funds go directly to service or research (we use the federal guideline of administrative cost being less than or equal to 20% as a basis for evaluation)
Ability to provide Brew Moon committee with information, connections for sponsorship and/or promote ticket sales
Provide 1 volunteer from your organization to serve on Brew Moon committee
Ability to provide Brew Moon Committee with 10 volunteers for day of event
Designated as a 501(c)3 and in good standing
---