SPONSORS
Thank you to our Sponsors!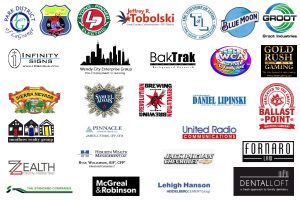 BREW MOON BEER AND BAND FEST  2019 Sponsorship Packages
Please complete our sponsorship form and a Brew Moon representative will follow up with you to confirm your participation.  Please send the  registration form and payment to The MAX Attn: Brew Moon,  4750 Vernon Ave.  McCook, IL 60525.  Checks are payable to Max Cares/Brew Moon.  Questions?  Call 708-854-2819.
$5,000 Imperial Stout Sponsor
Logo placement on static and digital billboards(minimum of 920,000 impressions per week x 4 weeks)
Prominent logo placement with link on Brew Moon, The MAX and Palmer Place websites
Recognition on all Brew Moon social media platforms
Logo on outdoor event banners
Logo on main stage and event banners
Logo in event program
Recognition during stage announcements
Logo on event t-shirt
Display company banner during event
20 event tickets valued at $1,100
Company logo on event sponsor banner displayed at the MAX for 6 months (180,000 impressions)
Inclusion in all press releases
$3,500 Ale Sponsor
Logo placement on digital billboards(280,000 impressions per week x 2 weeks)
Recognition on all Brew Moon social media platforms
Logo placement on outdoor event banners, posters and printed materials
Logo on event sponsor banner displayed at the MAX for 6 Months(180k impressions)
Logo in event program
Recognition during stage announcements
Logo on event t-shirt
Display company banner during event
15 event tickets valued at $825.00
$2,500 Pilsner Level
Logo placement on digital billboard (140,000 impressions per week x 1 week)
Logo placement on event banners, posters and printed materials
Logo placement on Brew Moon website
Logo in event program
Logo on event t-shirt
Display company banner during event
10 event tickets valued at $550.00
$1,000 Octoberfest Sponsor
Logo in event program
Display company banner during event
Logo placement on Brew Moon website
6 event tickets valued at $330.00
$500 Lager Sponsor
Listing in event program
Display company banner during event
2 event tickets valued at $110.00